Person, plus nail, PLUS those two extra lines on top, which are SPEED LINES, didn't you know?
What are speed lines? They're a comic strip term for the . . . .well, I'll just show you: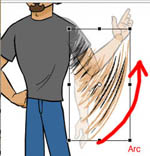 So, a

person

holding a

nail

is

going

somewhere, and they get

speed lines

because they are

going

fast. I assume to a crucifixion.